Truck Mounts Carpet Cleaning Machines
The Next Generation is Here!
When you are ready to upgrade from a portable, the Avenger 500 is the perfect entry level truck mount carpet extractor. Compact, simple design and affordable. Century 400 has been in business for 25 years and is owned by the largest truck mount manufacturer in the world - Prochem. So you can depend that they will be their for you.
Specifications: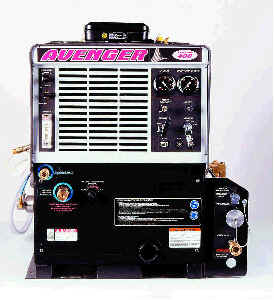 Briggs & Stratton Vanguard Engine - 18 HP

Engine Speed - 3250 RPM

Sutor bilt Vacuum Pump - 3LL at 13" HG

CAT 3CP Water Pump - 1420 RPM

Water Flow Rate - 3.0+ GPM

Water Pump Pressure -1,000 PSI

Waste Tank Capacity - 60 Gallons

Weight -688 Lbs

Dimensions -32"W x 39"D x 33"H

Warranty -1 Year Parts, 90 Days Labor
Standard Equipment:
100 ft of ¼" I.D. Pressure Hose

100 ft of 2" Vacuum Hose

50 ft of Inlet Water Hose

Carpet Wand

Installation Kit

Operation and Service Manuals
SPECIAL
$CALL US FOR A GREAT PRICE
INCLUDES 6 HOURS OF FREE INSTALLATION AT OUR LOCATION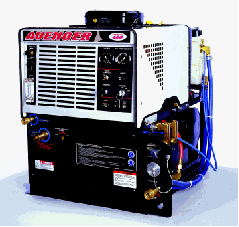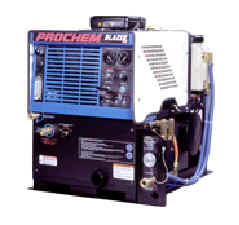 COMPARE THE BLAZER WITH THE AVENGER. ITS THE SAME MACHINE- DIFFERENT LABEL - SAME FACTORY.
Peak Truck Mount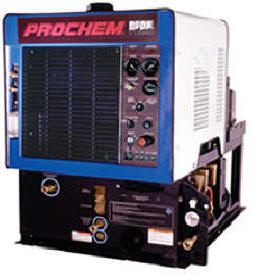 Prochem's Next Generation Truck mount.
The durability of the liquid-cooled engine ensures you are maximizing your profit potential. Further, the simplified design makes operation and maintenance easier than ever. The patented heat exchange system provides plenty of heat for the PEAK's single wand operation. Plus, the tri-lobe blower provides the vacuum you need to get the job done right.
Innovative Design Features:
Liquid cooled Kohler engine for long lasting reliability.

Simplified design for no-hassle operation and maintenance.

Improved heat and vacuum for the ultimate performance.

Patented heat exchange system provides plenty of heat while eliminating the need to bypass water to the waste tank.

Tri-Lobe blower designed in partnership with Prochem and Sutorbilt for the carpet cleaning industry provides smooth, quiet operation.

Perfect for large commercial jobs or de-flooding and water restoration work.

Last Step Chemical Injection for long life of water pump and heat exchange system.

Many other features you asked for and Prochem has delivered!

Solution Pressure Circuit – Creates up to 1000 PSI for carpet and hard surface cleaning.

Stainless Steel Chemical Pump – Stainless steel provides durability and eliminates corrosion issues.

Shutdown Identifiers – Diagnose cause of shutdown and correct the problem, limiting downtime.

Accessible Solution Screen and Check Valve – Easily accessible screen and valve make preventive maintenance quick and simple.

Aluminum Frame – Aluminum prevents rusting and corrosion issues.
Specifications
| | |
| --- | --- |
| Waste Recovery Tank | 60 Gallon, Marine Grade Aluminum |
| CAT 3CP+ Pump | 1000 PSI @ 3.7GPM |
| Engine | 25 HP Kholer Liquid-Cooled Engine |
| engine speed | 2850 RPM/1200 @ idle |
| Kit | Complete Installation Kit |
| Manuals | Operation and Service Manuals |
| Pressure Hose | 100 ft. of 1/4" O.D. Pressure Hose |
| Sutorbilt Tri-Lobe T406 Vacuum Pump | 14" Hg |
| Vacuum Hose | 100 ft. of 2" Vacuum Hose |
| Wand | Carpet Wand (quad jet) |
| Water Hose | 50ft of Inlet Water Hose |
Dimensions
| | |
| --- | --- |
| height | 43" |
| length | 45" |
| width | 30.75" |
Documents
---
---
Products / Accessories
Broadstroke Titanium Wand
Our 13.5 inch titanium wand could be the best investment you ever make!

Carpet Wands
Wands have a much greater effect on the end results of cleaning and drying than most people realize

Console Water Tank
A water tank that utilizes space that is normally wasted.
EZ-Charge Water Softener
Protect your truck mount investment from the damaging chemical deposits in your water supply.

Fresh Water Tank
Gives you a 60 gallon on-board supply of fresh water.

Hard Surface Counter Top Tool
The countertop tool is ideal for kitchen counters, ledges, or irregular surfaces.

Hard Surface Wand
You can select the hard surface wand for small or narrow floor areas or steps.
High Profile Hose Reel
Prochem's high profile hose reel keeps hoses neatly stored and speeds set-up and clean-up time.

Motorized Hose Reel And Fresh Water Tank
Conserve space in your van!

Prochem Upholstery Tool
The Prochem Upholstery tool will turn your truck mount into a high productivity upholstery cleaning machine.
PV12
12 inch Upright Vacuum with Automatic Vacuuming System.
Stair Tools
For big cleaning jobs you'll find Prochem's Stair tool a must!
Due to manufacturer requirements about posting discounted prices we can not give you pricing on this page. However, we can e-mail prices if you fill in the form above. We will e-mail you these special prices right away.
These are great machines !!